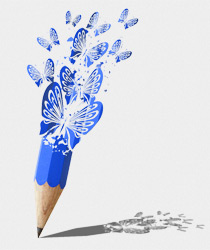 How will we work together?
You may have already experienced professional supervision and be clear about what works and doesn't work for you. I'd love to hear your ideas.
If the concept of supervision is new to you I'd like to explain how we might work together. Supervision involves developing a connection between the supervisor and supervisee (you), usually face-to-face, via skype or phone, in which the supervisor provides support, resources, tools and a safe, confidential space for exploring your work life. The supervision relationship has elements of mentor, coach, advisor, and teacher, and maintains a strong balance of mutual respect and accountability. Supervision sessions occur typically between monthly and two monthly, as determined by the supervisee's needs.
When we work together you can expect to feel heard, supported and gain clarity and strength of purpose in your work. You can expect to be respected and your skills and strengths acknowledged and celebrated while feeling safe to address areas you need to build on.
I encourage my supervisees to explore their own wellbeing in order to become more resilient in their working life.
You will learn tools to implement into your everyday life and work which will make a sustainable difference to your ability to thrive in your job and avoid over-giving to the point of burnout. Having a supervisor who is external to your organisation, not your boss or a colleague allows you to more freely down-load issues and explore them safely and honestly.
Some of the results my supervisees have experienced through supervision with me have included:
Increased feelings of control over workload and work expectations
Clarity around a difficult client situation and a plan for moving forward to resolve the issue.
A sense of relief at being able to "download" all the busyness in their minds and gain clarity.
Motivation and increased confidence to make significant changes in their work life.
Better working relationships with colleagues and clients.
Improved professional boundaries that reduce feelings of resentment or overwhelm with your workload.
Common issues explored in supervision are:
Work-life balance
Tricky client/patient dynamics
Professional boundaries with clients or colleagues
Time management tools for managing a busy caseload
Future career direction and development
Ethical dilemmas
FAQ – Frequently asked questions about Emerge Supervision Services
What is supervision?
Supervision is, in essence, a conversation between a supervisee and supervisor during which the supervisee raises issues they encounter in their work with clients, colleagues, or their employment situation or in their professional development. Because the supervision relationship built between supervisee and supervisor is confidential and empowering the supervisee is able to feel safe to reflect on what they have done well, outcomes they might be uncomfortable with, and any changes they need to make in the way they practice.
What are the benefits of receiving supervision from Jill?
I am a professional supervisor who focuses on helping health care professionals and other people-focused professionals with tools and ideas and strategies to manage their work-life balance.
I have more than 15 years' experience in providing professional supervision and have worked for more than 25 years in the health care system in clinical and supervisory roles.
I have the experience to help you find solutions to work issues – I have lived the work and can relate to the realities of your work life.
I provide a skilled resource to help you understand how to maintain your wellbeing in your work and come up with personally relevant and easy to implement strategies for work issues.
By providing an independent, confidential professional listening ear you are able to feel comfortable and safe unpacking issues in supervision which allows you to gain greater clarity without feeling judged.
In supervision you receive a regular space to step out of your everyday work and reflect on what is working and not working. You gain greater job satisfaction, and balance and avoid issues building up to become overwhelming.
By engaging in professional supervision with me you can take proactive steps towards well-being in your work practice, rather than a series of reactive quick fixes. As a result you, your clients, colleagues, employer and family all benefit.
Who needs supervision?
My first answer would be anyone who works with clients benefits from supervision (from front line reception to clinicians, managers, service providers). Most of my supervisees are from the helping professions – health, social services and community services.
For some professions, supervision is a requirement of their professional body, employer or contract provider.
How much does it cost?
I charge an hourly rate of NZ$100 plus GST, which equates to NZ$115 per hour. Travel is charged for face-to-face sessions, out of town and by prior arrangement.
How long are the sessions?
Most sessions are one hour long, unless by prior arrangement.
Where can supervision take place?
For locals (Whangarei, New Zealand) supervision can take place at your workplace or at a convenient neutral point such as a quiet café. For those out of town we can meet via Skype, or a phone call.
How often are supervision sessions?
Frequency depends upon the supervisee's needs and/or professional requirements. It ranges typically between fortnightly to bi-monthly.
What do you tell my employer?
The content of supervision conversations is confidential. The only exception would be if there was the potential for harm to the supervisee or client, and the need to inform other parties would be discussed with the supervisee before any action was taken.
Even if the employer is paying for the supervision, the only feedback that I would offer as a supervisor is whether or not the supervisee is engaging in regular supervision as agreed.
Supervision seems to mean lots of different things in different jobs.
There are many different definitions of supervision. In some contexts, supervision is viewed as something a worker receives if they are working at a substandard level, or just new to a job. In the helping professions, however, supervision has a different meaning.
"Supervision is a collaborative process in which the supervisor works with the supervisee to explore their work reflectively. The role of the supervisor is often viewed as a mix of educative, mentoring, holding the ethical position and ensuring the safety of the supervisee and of the supervisee's client. Fundamental to the relationship is good rapport and a working alliance."
Inspiring Creative Supervision – Caroline Shuck and Jane Wood
What is the difference between clinical and professional supervision?
I differentiate between clinical supervision and professional supervision in this way.
Clinical supervision has the main focus on the clinical component of the job – the skills employed in helping the client such as professional knowledge or techniques and caseload management.
Professional supervision can incorporate clinical supervision but also the other skills necessary for undertaking the work in a professional, and sustainable way with awareness of the therapist's own well being as well. For instance topics such as time management, critical reflection, interpersonal communication, relationships with colleagues and professional boundaries might be explored in a professional supervision session.